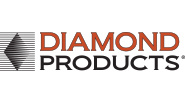 Oops! This product line hasn't been included on this website yet. No worries, click the link below to be redirected to the old CESSCO webite. (opens up in new window).
https://cessco.us/diamond_products.html
Diamond Products is an American leader in diamond tools and equipment. This 16" electric hand saw offers performance and value in an 18 lb. package. CESSCO sells the Diamond Products C16 for $1,228.95 w/free freight to most contiguous U.S. destinations.